Up to 80 per cent of all apartment sales in NSW by the end of 2023 will be from well-qualified developers, it predicts.
"Consumers will have a very, very clear choice from now on not to deal with unqualified players," Chandler said.
"Frankly, for qualified developers, I think the next three to five years are going to be the golden years for residential apartment building sales.
"This is the time to let the fresh winds blowing in the sails of this industry start carrying the good ships forward and leave the risky ones in the docks."
TOGA Group CEO Allan Vidor was delighted to receive top marks. "We've been in this business for 59 years and we take great care in what we do," he said. "We have very rigorous processes and we are very happy with this result.
"If there is a problem, we go back and fix it and we have a reputation after so many years as a developer you can trust. People spend a lot of money on apartments and make big decisions, and there is a growing recognition that the rating system is there to make sure things can't go terribly wrong."
At the show suite for TOGA's $200 million mixed-use development, Surry Hills Village, off-plan apartment buyers Lillie and Tim Robinson were delighted to hear the company's top rating.
"We chose TOGA because they have a good reputation, but now that the 4.5-star rating gives us even more confidence," said attorney Lillie, 32. "It makes it easier to secure financing as a buyer and also helps if we ever want to resell it."
Fellow Gold Star winner Mark Monk, CEO of HELM, said he is a big supporter of the iCIRT system as a way to restore confidence in the apartment industry. "We were the first company to sign up for the qualifications, and while we're not a big business, we care a lot about our work," he said.
Charging
"We started 13 years ago and have invested heavily in our people, systems, products and reputation, but for a long time there hasn't been a system to distinguish good players from the bottom 20 percent of the industry that has hurt their footing.
Meriton's director of sales, James Sialepis, said buyers should be very aware and exercise due diligence.
"Meriton's 60-year history, 100% execution history, combined with the highest iCIRT rating for any developer to date, ensures that our customers can enjoy unparalleled confidence and security when choosing Meriton," he said.
Chandler agreed to remain in his post in August after rescinding his July resignation over concerns he had about the fair trade portfolio of then-Minister Eleni Petinos, who was later fired, albeit reportedly for unrelated matters.
"I was looking for clarity about the landscape where I could do my work," he said. "And I think [incoming minister] Víctor Dominello has reinforced it very clearly and I have also had incredible support from the opposition and from the crossed benches.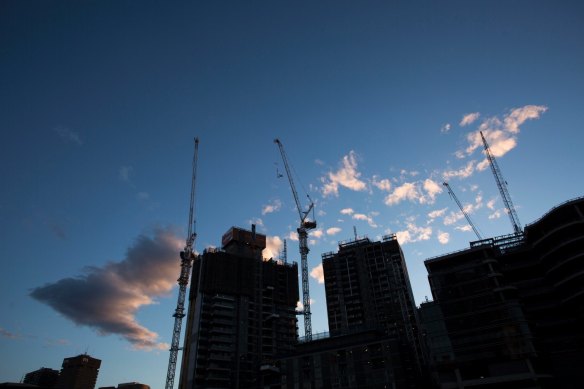 "It was unexpected, but it was quite moving, it was fantastic."
His office has developed a Continuous Occupancy Protocol, which means that if a building is in trouble, hopefully it can be made safe on-site without evacuating all residents.
The legislation also allows you to look at buildings up to 10 years old to examine them for defects.
Next year, a Trustworthy Building Index will be established to rate buildings based on trustworthiness, compliance with standards, and embodied carbon.
But the iCIRT rating tool, Chandler says, is now having a big impact on the industry, as buyers withdraw their deposits from unrated developers, insurers agree to re-insure apartment buildings and consider offering 10-year warranties, Some financiers refuse to lend to unqualified developers and staff refuse to work for them.
"What this rating system is also doing is closing the door on people who think they can get into the development industry with a $2 company, a cell phone and a joint venture," Chandler said.