The government will come up with a new NHS winter care package to move patients stuck in hospital to care homes.
Health Secretary Steve Barclay will announce the changes this week, though the full amount of cash to go toward the initiative is still being settled.
Senior government sources told the Sunday Times it would involve spending hundreds of millions of pounds on top of the £500m for social care announced in the autumn statement.
"Transparency is a good thing," Starmer says of the Sky News project: live policy updates
The plan, which Mr Barclay will announce on Monday, is understood to aim for the bulk purchase of up to 2,000 nursing home beds at facilities approved by the Care Quality Commission over the next four weeks.
Patients who should be discharged from the hospital but have not been able to because they need more care but have nowhere to go will be moved to nursing home beds.
The aim is to reduce NHS waiting lists and ambulance waiting times which have been exacerbated by beds being blocked by these types of patients, through no fault of their own.
There are currently around 13,000 patients stuck in NHS hospitals who don't need to be there.
As the government faces more strikes by NHS workers, including nurses later this month and possibly junior doctors in Marchthe health secretary has doubled down on insisting that salary review bodies are the best way to decide public sector salaries.
For months, ministers have been saying that salary negotiations are for salary review bodies, made up of experts and staff from the relevant fields, to decide.
But the unions have said that ministers have the final say on whether or not to accept the recommendations and have also argued that this year's wages were decided before inflation exceeded 10%.
Starmer proposes a '10-year NHS plan'

Barclay is due to meet union leaders on Monday, but the health secretary wants to focus on wage negotiations for 2023/24.
The Royal College of Nursing (RCN) said that Go ahead with your strikes on January 18 and 19 unless you're talking about the last few months of this fiscal year.
Pat Cullen, head of the RCN, urged ministers to meet nurses halfway in their demand for a 19% pay increase for this fiscal year.
Prime Minister Rishi Sunak told the BBC on Sunday that only the 2023/24 salary will be discussed.
Ms Cullen said she had a "point of optimism" and said she had noticed a "small change" in Mr Sunak's stance.
Health Minister Maria Caulfield, who is also a cancer nurse specialist, told Sky News' Sophy Ridge program on Sunday that talks on Monday will be about "both pay and conditions" after the government had previously said that there was only a change in the conditions on the table.
Prime Minister invites unions to "adult" talks

Barclay, writing in the Sunday Telegraph, said he recognizes that "inflation has made life more difficult for the workforce" which is why he is "so determined to talk about what we can do next year on pay."
"Doing this work through the process of independent wage review bodies is clearly the best way to go, especially as spending every winter frozen in wage negotiations with unions would divert attention from the other challenges facing the NHS," he wrote. .
The health secretary added that he is "ready to engage with unions" and that NHS staff could get a significant pay rise from April, if they agree to sweeping reforms to improve productivity, such as "virtual rooms" in nursing homes. people.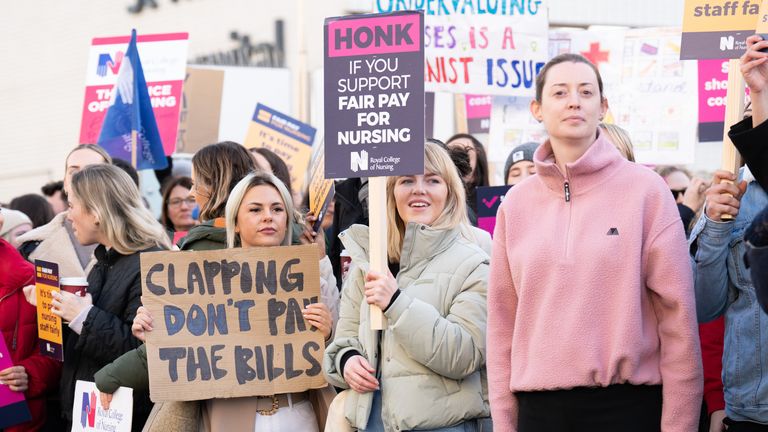 A Department of Health and Social Care spokesman said: "We recognize the pressures the NHS is facing in the aftermath of the pandemic and are working tirelessly to ensure people get the care they need, with the support of up to 14,100 million pounds of additional funding for health and social care over the next two years.
"This winter, we will provide £500m to speed up discharge and the NHS will create the equivalent of 7,000 additional beds to increase capacity.
"We continue to consider all options to help urgently reduce delays in hospital discharge for medically fit patients. More will be put in place in due course."
On Saturday, Mr. Sunak held an emergency meeting with health leaders while called for "bold and radical" action to alleviate the NHS winter crisis.
He said a "business as usual mentality will not solve the challenges we face."